5 Q&A WITH JUSSI NIEMI WHO RUNS AN ECO-FRIENDLY BUILDING COMPANY
Jussi Niemi runs the eco-friendly building company Ekorakentaja in Finland and is one of our test pilots for Fristads Green. We have asked him some questions about building eco-friendly.
1. You do everything within building, painting, flooring, bathroom and kitchen but eco-friendly. How does that work?
Most of the products I use are made of natural materials or made in a way where the environmental aspect is considered in production. One could imagine that not all renovations can be carried out ecologically, but they can. Natural paints are made from biodegradable materials, parquet is produced responsibly and does not contain any harmful chemicals and wood has even been found to have antibacterial effects! Natural stone is a durable material with a low carbon footprint and clay is a great material for surface repairs and has moisture regulating properties. And these are just a few examples!
2. Are there any differences in quality between eco-friendly and non-eco-friendly materials? Differences in price?
Eco-materials are of very high quality and meet all normal regulations, sometimes even exceed them. Usually I compare eco-materials to food, in a grocery store organic food is a little more expensive than regular.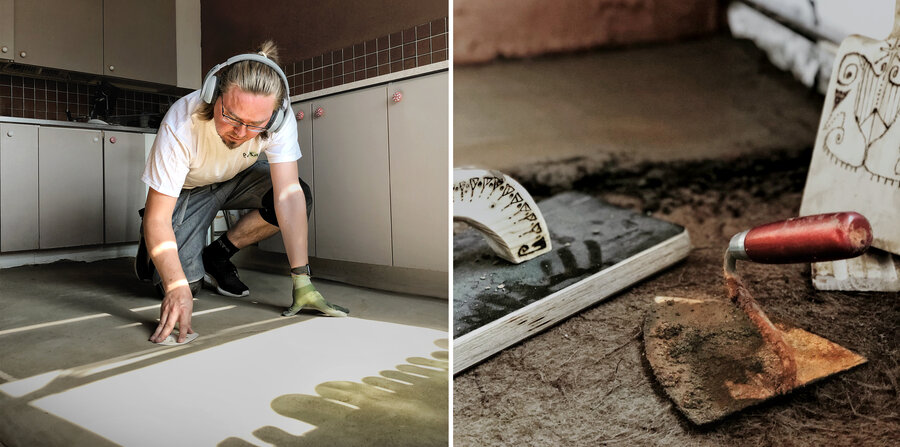 3. Do you have any favourite material that you prefer working with?
My favourite material is definitely clay! It is so versatile. Clay can be used to plaster walls, paint, make a floor and even build a house. The clay has properties that affect living health as it contributes to a perfect humidity indoors at the same time as neither mold nor bacteria thrive in clay. In addition, clay is truly ecological and can be 100% recycled.

4. What do you think is most important to consider when rebuilding – are there any choices you can make that are extra important when it comes to environmental impact?
I find it especially important that the material you use is recyclable and does not generate unnecessary landfill waste. From the point of view of climate change, it is good to choose natural materials.
5. You have tried our Fristads Green collection for a while now. What do you think?
Apart from only working with eco-friendly building materials we want to use sustainable products that have the smallest possible impact on the environment while carrying out our job. Therefore, Fristads Green feels like a natural choice when it comes to workwear. The use of recycled material and organic cotton and that they have pushed themselves to reduce the use of energy in production through smart design is just great. Both the craftsman trousers and shorts are very comfortable. The material is nice and soft and not too warm and there are a lot of pockets where the tools fit well. I would definitely recommend them.