Comfortable and functional
​​with the right feminine fit
We created our first women's workwear collection 40 years ago. Now it's more comprehensive than ever. Our collection of professional work clothes for women provides all the functions you need with a feminine fit. Most products are available as exact equivalents of the men's models, while others are only available for women.
OUR POPULAR CYD IN WOMEN'S MODEL
The base fabric in our Gen Y trousers collection is CYD - a 60% cotton and 40% polyester canvas. This highly appreciated material provides the right feeling of comfortable cotton, at the same time as it's very durable and has good colour fastness. Combined with a contemporary fit with narrow legs and a slightly lower waistline than our classic fit the

Gen Y Craftsman Trousers 2115 CYD

is a favourite among many customers.
Available in four different colours and without loose hanging pockets (item no

110328

)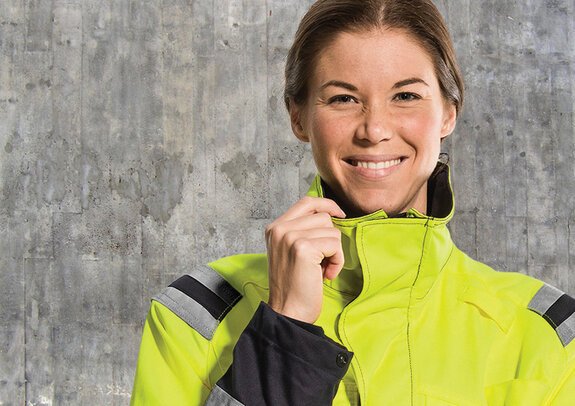 ANTI FLAME WOMAN
A comfortable collection in durable flame retardant treated material that is also electric arc tested. The collection holds a jacket, craftsman trousers and a pair of high-vis trousers cl 1 as well as underwear for increased protection.
FUNCTIONAL AND COMFORTABLE FOR PAINTERS
For you working as a painter or bricklayer we have women's trousers specially developed for you. Hardwearing cotton material with the right functions and pockets.
For more garments suitable for painters and bricklayers take a look at

Painter and Bricklayer

. Most of the garments are available in sizes down to XS/C44.
COLOURFUL WITH THE FUNCTIONS YOU NEED
Craftsman trousers in 100% cotton with all necessary features, such as functional pockets and CORDURA® reinforced knee pockets, in pink. Our

Craftsman Cotton Trousers Woman 2077 NAS

are only available in women's model.
HIGHLY VISIBLE WHEN
​​​​​​​YOUR JOB DEMANDS IT
In our high vis collection for women you find a softshell jacket, winter jacket and trousers CL 1-3. By combining the garments you can reach the highest level of high visibility protection. See our

Safety class guide

for more information.
All garments in colour 171 High-Vis Yellow/Navy are kept in stock, other colours are available on a "make to order" basis.