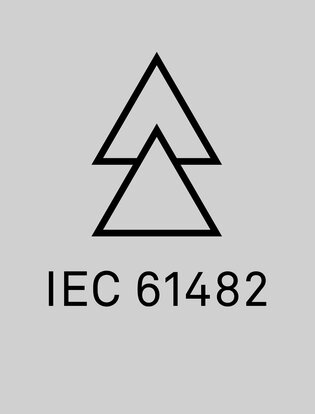 Certified and approved garments appropriate for use in work environments where there is a risk of electric arcs.
When there is a risk of being exposed to an electric arc, for example, when servicing equipment in non-arc-safe distribution plants or electrical switchboards, or when working on high voltage equipment, personnel are recommended to wear arc-approved protective clothing.
What protection does your clothing need to provide during an arc blast?
The plasma clouds, flames, radiation and metal splashes from the electrodes hit the fabric during an arc blast. When this occurs, the fabric has to provide sufficient insulation to prevent second-degree skin burns. An effective fabric used in an arc garment must provide shielding against the flame and metal splashes, as well as insulation from the intense heat. The standard IEC 61482-2 includes two test methods, EN 61482-1-1 (open arc) and EN 61482-1-2 (box test). Our garments are certified according to both test methods or one of them.
The garments must cover the whole body. For example, a jacket and trousers must be worn together with other personal protective equipment (PPE), including a helmet with protective visor, protective gloves and protective footwear (boots) to achieve the correct level of protection. Layering is very important and will increase protection – if you wear flame retardant underwear underneath your flame retardant garments you are protected for even better.