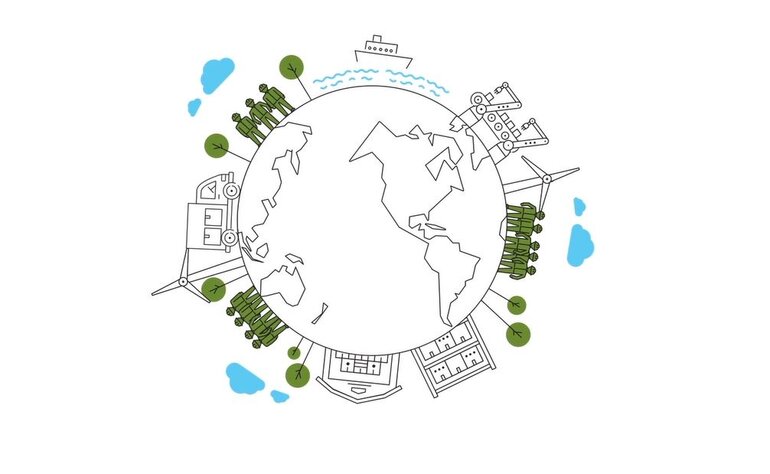 IN WHICH WAY DOES FRISTADS GREEN CONTRIBUTE TO A BETTER ENVIRONMENT?
REDUCED WATER CONSUMPTION
e.dye® is an environmentally sustainable process for dyeing polyester fabric, which reduces water consumption by 75 % compared to traditional dyeing. The colour is added to the raw material before it becomes yarn which provides superior colour performance.
ALL WASTE MATERIAL IS REUSED
We reuse all waste material from the production of Fristads Green garments. The surplus material is utilized on site and are turned into new products, for example "comfort pads" which provide extra protection for knees and elbows.
EFFICIENT PACKING AND SHIPMENT
The garments are folded using a special folding technique that makes the garments take up less space during transport and minimizes the need for plastic bags. All transport are made by sea and road which has a significantly lower environmental impact than air transport.
ORGANIC COTTON
Organic cotton is grown without the use of toxic chemicals and with reduced water usage. In the craftsman collection we use undyed cotton to furthermore reduce water consumption.
​​​​​MATERIALS WITH LOW ENVIRONMENTAL IMPACT
Our service- and industry garments are made of TECAWORK™ ECOGREEN – a comfortable material made of polyester from recycled PET bottles and TENCEL™ Lyocell – cellulose from traceable and sustainably sourced wood. TENCEL™ Lyocell uses 95% less water when produced compared to cotton and recycled polyester reduces energy consumption with 45% in comparison with traditional polyester.
ENERGY EFFICIENT DESIGN
Special design, efficient use of materials, fewer details and smart solutions saves energy in production and facilitates recycling of the material.
​​​​​​​
FULL TRANSPARENCY
Fristads Green products have an Environmental Product Declaration (EPD) giving information about the total environmental impact throughout the product's life cycle.

Learn more about EPD here

.
The Fristads Green garments have a clean design with minimal details to save material and energy in production.
Comfort pads for knees and elbows are one example of how waste material is transformed into other products.
This is how the garments will be delivered to you to avoid plastic bags and optimize transport capacity.
Fristads Green has been awarded the highly regarded Red Dot Award: Design Concept for its high level of innovation and design quality.