Tracking and reducing our carbon footprint
Since 2018, Fristads has mapped its greenhouse gas emissions as a member of the Swedish Textile Initiative for Climate Action, STICA. Our goal is to reduce our overall carbon footprint by 50% by 2030.
Scope 1
Refers to emissions from owned or controlled sources, such as vehicles and facilities.

Scope 2
Refers to emissions from purchased and used electricity, district heating and cooling.

Scope 3
Refers to emissions from external assets, such as purchased goods and services.

​​​​​​​Scope 1 & 2
In 2022, Fristads' emissions of CO2e in Scope 1 and 2 amounted to 2,054 tonnes, which is a decrease of 59% compared with the baseline year 2018. The reduction can be attributed to a number of actions, the one with the largest impact during 2022 being climate compensation via Hultafors Group. Even though we have already surpassed our target of a 50% reduction by 2030, we will continue our work to reduce the climate impact of our own operations even further, mainly through continuous reduction of fuel and electricity consumption in our own facilities.
​​​​​​​
Scope 3
In 2022, Fristads' emissions of CO2e in Scope 3 amounted to 77,849 tonnes, which represents an increase of 24% compared with the baseline year 2019. This increase can largely be linked to the build-up of our safety stock in response to the turmoil in the global supply chains that followed in the wake of the Covid-19 pandemic. The build-up of products caused a temporary increase in emissions but has now been completed. On a positive note, we increased the share of products with an Environmental Product Declaration, as well as products made of more sustainable materials. Thanks to greater stability in our supply chains, we were also able to slash the share of air shipments from 13% in 2021 to 5.9% in 2022. The greatest reduction by far was made during Q3 and Q4, when air shipments were below our strategic goal of <2% of total transports.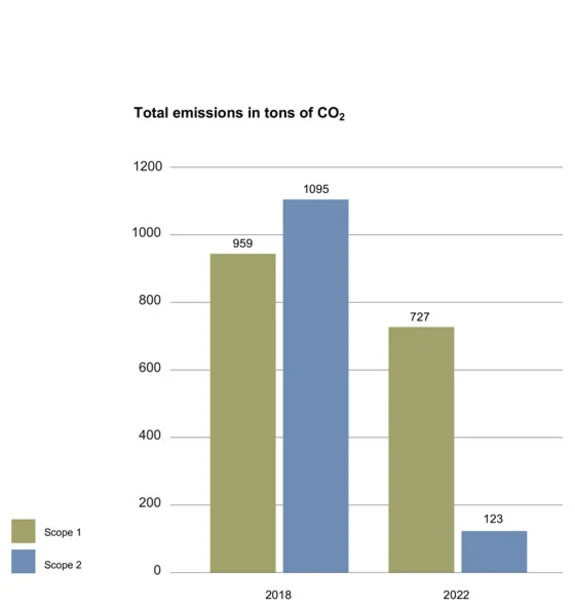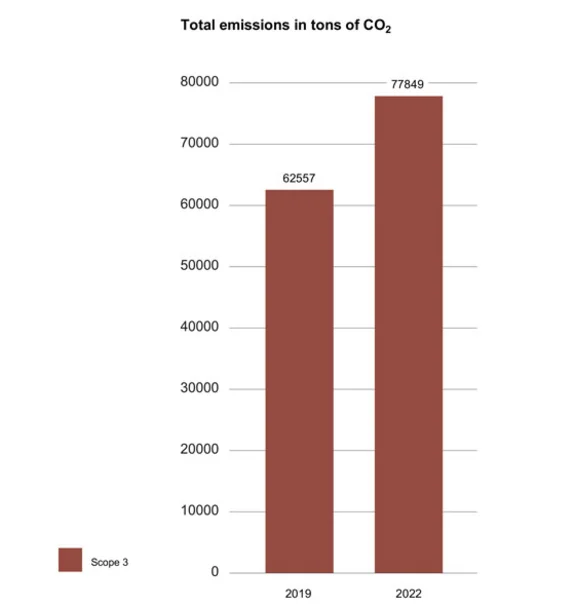 Next steps to reduce our emissions
As 99% of our emissions are related to purchased goods and services, the bulk of our future sustainability work will be focused on improving our numbers in Scope 3. These are some of the steps that we started taking in 2022 and continue to work on during 2023 to ensure that we stay on track to reach our goal:


Optimising our assortment to decrease the share that is slow moving or selling in small volumes.
Continuously replacing conventional materials in our products with more sustainable alternatives, for example recycled polyester and Lyocell.
Reducing the number of materials and variations of trims that we produce and keep in stock.
Developing our digital systems to improve our ability to notice and respond to changing purchasing patterns.
Decreasing the number of suppliers to facilitate the environmental work in our production and optimise deliveries.
Sustainability report
At Fristads, we are passionate about sustainability and it is the guiding star of everything that we do. Read about our actions and projects during 2022 and get the latest figures.​​​​​​​

Read more >
Environmental Declaration
The Environmental Product Declaration (EPD) is a tool that guides customers, buyers and those responsible for public procurement to making more insightful decisions.​​​​​​​

Read more >
Sustainable products
To compete with quality rather than price has been a key principle for Fristads from the start. For us, making quality garments is the core of our sustainability work.
​​​​​​​