High safety and comfort in all weather conditions
When visibility is crucial at your work site, our high visibility workwear will help maximise your personal protection. Our fabrics in fluorescent colours and reflective tapes meet the latest international standards and our high-quality demands ensure you're visible in all light and weather conditions. Advanced material technologies together with good fit provide comfort and flexibility in all weathers – giving you everything you need to stay safe and efficient on the job. All our high visibility garments are certified according to European norms.
FIND THE RIGHT WORKWEAR FOR YOU
MATERIALS used IN OUR HIGH VIS COLLECTION
PLU
PLU is the main material for our unlined collection. PLU is a fluorescent material with well-proven durability and comfort. The material is made of 80% polyester, 20% cotton, where the cotton lies on the inside of the fabric and provides extra comfort closest to the skin. It is also treated to be dirt, oil and water repellent. We combine this with our LUXE quality on surfaces that are more exposed to dirt, a durable and comfortable material made of 65% polyester and 35% cotton. The materials are selected to meet our high quality requirements. All PLU garments are tested for industrial washing and can withstand at least 50 washes at 85 °. All garments are OEKO-TEX® certified.
GXB
A completely water- and windproof GORE-TEX material with high breathability carefully tested to provide the best function and quality with long life span. Tha material withstands 28 000 mm water column in GORE's own tests and 10,000 mm water columns even after 35 industrial washes at 60 degrees with retained function.
POLYDEX
Polydex is a very durable, colourfast and easycare material made of 100% polyester. The garment is dirt-, oil- and water-repellent. The soft brushed inside provides excellent comfort.
TH
TH is a durable material of 70% polyester and 30% cotton. Dirt- oil and water repellent.
AIRTECH
Fristads Airtech® is a wind- and waterproof material protecting against cold, wind and snow. The material is also highly breathable and keeps you dry and comfortable by transporting excess heat.
A soft and flexible PU-coated stretch material providing great freedom of movement. Our garments in RU have welded seams to keep the rain out.
An international standard for your safety
All our garments are certified according to the standard for high visibility garments, EN ISO 20471. Apart from the products' EN ISO 20471 certification, all the garments are tested in our laboratory to provide all of our users the maximum possible safety.
All high visibility garments are certified according to EN ISO 20471 and are divided into three different classes – 1, 2 and 3 depending on how visible they are. With Frisatds safety system for high-vis clothing we have certified our garments together so you conviently can see which garments to combine to reach the highest safety level, class 3.
At the end of the page you can download our a quick reference guide, which will easily show how to combine your garments to obtain the requested visibility class. All garments have been given a specific code, based on type of garment and classification, for example U3 or T4. The code is shown as a symbol in the product information and in the CE label in the garment.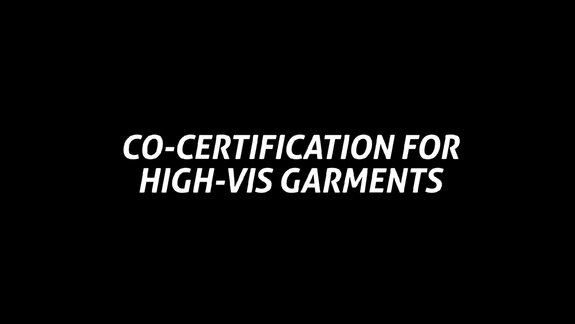 Watch our movie about high visibility garments, the different safety classes and how you use the Fristads protection system to reach the safety class requred for your profession.
How large can your logo be?
High visibility clothing has fluorescent areas and reflective material conforming to certification requirements according to three different classes. Class 3 is the highest safety class. Garments that are certified according to class 3 can be combined with any other garment, as long as these do not cover the high visibility garment's fluorescent or reflective areas.

​​​​​​​Look in the table below to determine the class required. On garments personalised with company logos, it is important to ensure that the logo does not obscure too great a proportion of the fluorescent area. This table will help you determine how large your logo can be. The total flourescent area must be at least 0.8 m2 to conform with class 3.
Download charts & tables: