Towards more sustainable materials
We carefully choose the materials and fabrics for our workwear based on the performance, durability and environmental impact of the finished garment.
We are exchanging the materials in our collections for more sustainable alternatives on an ongoing basis, for example by swapping regular cotton for organic cotton or regular polyester for recycled polyester. We have also developed customised, more sustainable collections for several of our larger customers. To ensure that the materials live up to our quality requirements and retain their durability they go through rigorous testing, both in our lab and through wearer and industrial wash trials.
Doubling of more sustainable fibres
In 2022, we doubled the share of recycled polyester and organic cotton that we used in our clothing.
Share of recycled polyester of total polyester consumption (%).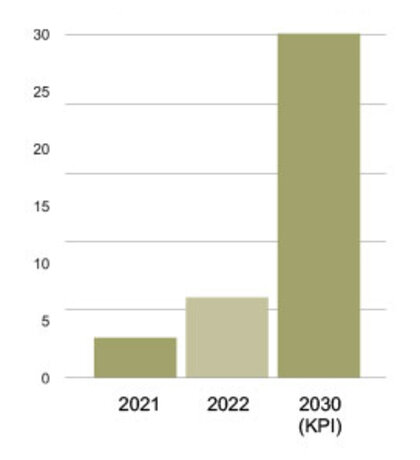 Share of organic cotton of total cotton consumption (%).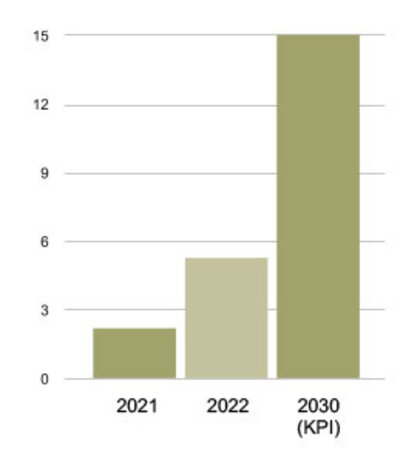 Polyester is a great fibre for workwear thanks to its durability, strength and abrasion resistance. Polyester is a synthetic fibre generally based on fossil resources. There are also polyester fibres made from biobased resources that in some cases can be utilised in workwear.​​​​​​​
​​​​​​​
Recycled polyester
Recycled polyester can be produced mechanically from PET bottles or chemically from various waste materials, for example production waste from the textile industry. We secure traceability for all recycled material via the GRS (Global Recycled Standard).

Cotton offers a combination of high comfort and great technical performance and is often blended with polyester in workwear fabrics. It can withstand high laundry temperatures with maintained strength.


Sustainable alternatives to conventional cotton
Organic cotton and cotton grown according to the principles of the Better Cotton Initiative (BCI) are two alternatives that reduce the environmental impact of conventional cotton cultivation.

Better Cotton Initiative
BCI farmers minimise the harmful impact of crop protection practices, promote water conservation and strive to protect the health of the soil as well as enhance biodiversity.

Organic cotton
Organic cotton cultivation uses natural processes to nurture the health of the soils and surrounding ecosystems. It eliminates the usage of toxic fertilizers, pesticides and GMOs (Genetically Modified Organisms).
Modacrylic is a modified version of the more commonly known fibre acrylic. It is a soft and very comfortable fabric that is used in workwear for its built-in flame-resistant properties.​​​​​​​
Polyamide is a synthetic fibre with high abrasion resistance that can increase the longevity of a product. Also known as nylon, it is used in high-performance fibres such as Kevlar® and Cordura®. ​​​​​​​
Microplastics are synthetic, water-insoluble polymer items shorter than 5 mm that can be toxic to the aquatic environment. Fristads products should not contain any toxic substances, but we are monitoring research on microplastics to keep up with the latest advances.​​​​​​​
Sustainable products
To compete with quality rather than price has been a key principle for Fristads from the start. For us, making quality garments is the core of our sustainability work.​​​​​​​

Read more >
Circular product cycle
We work on several projects together with selected customers aiming at giving worn-out workwear a new purpose and using the resources to their full potential.​​​​​​​

Read more >
Our own laboratory
In our own laboratory we test and check the physical properties of our materials - an important part of product development to ensure great quality.

Read more >