To be comfortable when you work, it's important that you wear the right size of your workwear. To make sure you choose the correct size for a perfect fit, please use our size guide.
​​​​​​​
How to take your measurements?
Starting from your own body size, compare to the tables to find the correct size.
Choose the table matching your height (A).
The tables for women's garments only apply for garments from the chapter Woman, otherwise, the tables for men apply. There are separate size tables for Acode. For a limited number of anti-flame garments, there are separate tables for measure B and C.
​​​​​​​
When buying trousers, measure A, C, D, E and for jackets, measure B (sizes XS-5XL). Measure A, B, D, E for coveralls and, depending on your height, choose regular, long or short in the tables.
​​​​​​​
PLEASE NOTE!
All measurements given in the tables are body size, except the inside leg, which is equivalent to the garment's size.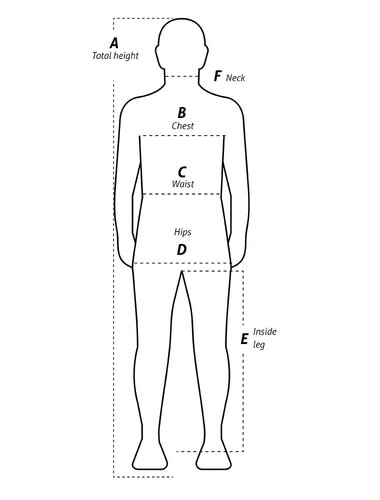 Choose the right Fristads size