For father-son-team, timber haulage is a lifestyle
For almost 100 years, Emil Elmelid's family has transported timber from the forests of southwestern Sweden, a tradition that he and his father are now carrying on. Since both run their own haulage firm, they're technically competitors but in reality, they collaborate and help each other out with the day-to-day operations. That's a good thing, because driving a timber hauling truck is more than a job – it's a lifestyle that you can't easily check out from.
A muffled clanking noise is coming from a newly thinned out woodland near Öxabäck, Sweden, as Johan and Emil Elmelid are securing the last logs on their timber hauling trucks with some thick chains. The first rays of sun are trickling through the trees while the father and son duo enjoy a quick cup of coffee together and go over the logistics for the day, before it's time to take the logs to the customer. Keeping a full thermos of coffee is key when you're working long days in the forest.
100 years of experience​​​​​​​
Emil's grandfather's father started the family's first haulage firm already back in 1927. Emil's father Johan and mother Lena then took over the business from Lena's father in 2000 and Emil became an employee after graduating from high school in 2016. But two years ago, he started his own business and today Emil has three trucks and two employees. Even though father and son both run their own businesses, they have the same contract with the timber companies and help each other out whenever they can.
"I'm still doing things the old-fashioned way, with paper. When I have questions about new technology, I call Emil and we exchange skills," Johan said.

Both Emil and Johan were drawn to the timber haulage business due to the freedom of being in the forest, driving the truck and working independently. There are some cons too, mainly that the timber trucks, which are nearly 24 metres long, sometimes get stuck when they have to travel on narrow, slick tracks in the forest. That and the fact that you're always on call in case the people who are working the night shift run into trouble. Even so, the advantages far outweigh the disadvantages and both Johan and Emil enjoy spending time in the forest in their free time as well.

​​​​​​​"There's peace and quiet in the forest and no stress, like in the big cities. Being out in the forest without a truck is different, but at the same time it's hard for me to take my 'work glasses' off. I always check how the trees are doing and where I'd be able to get through with the truck," said Emil.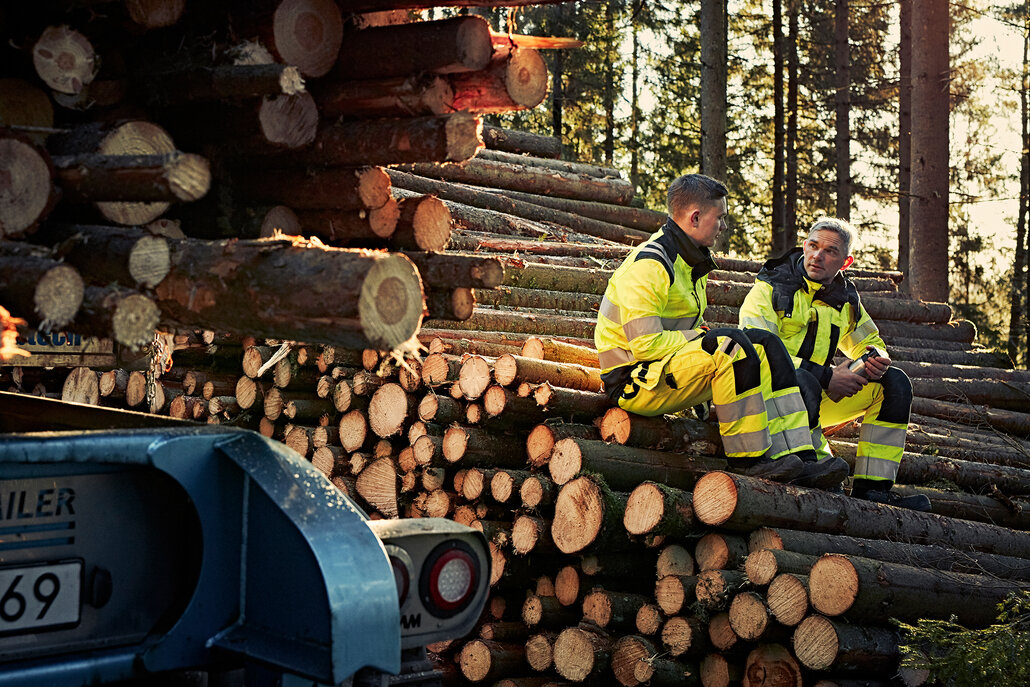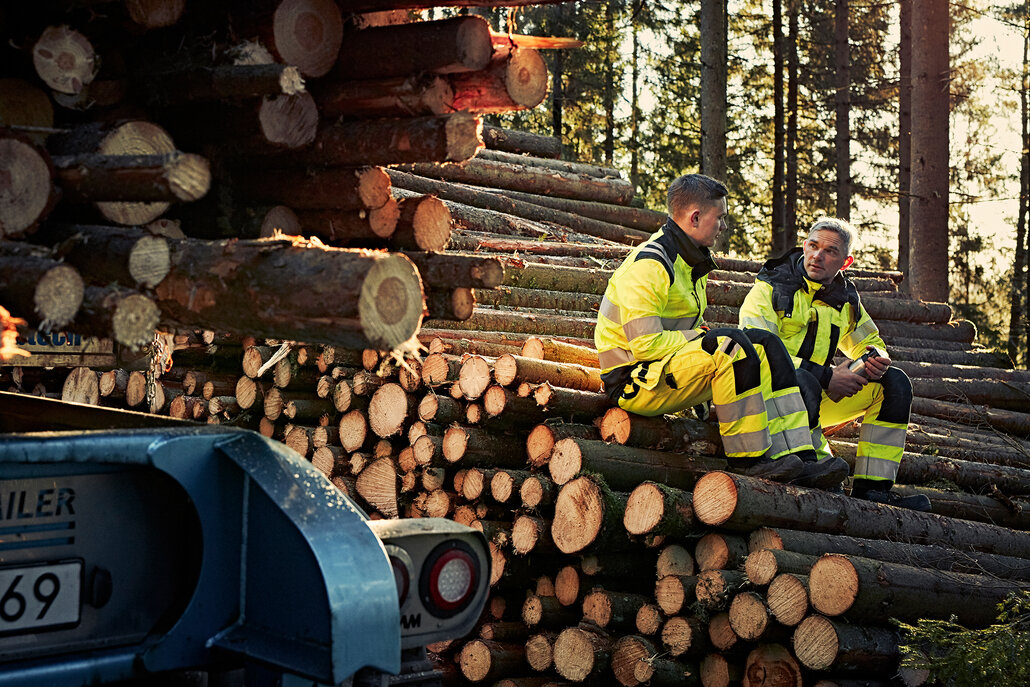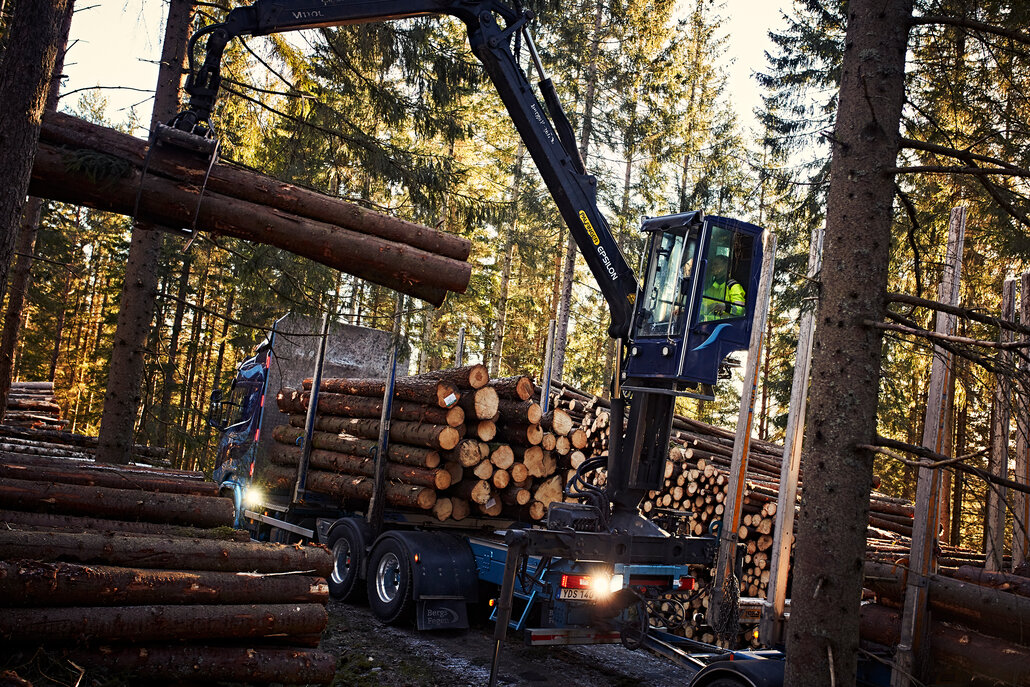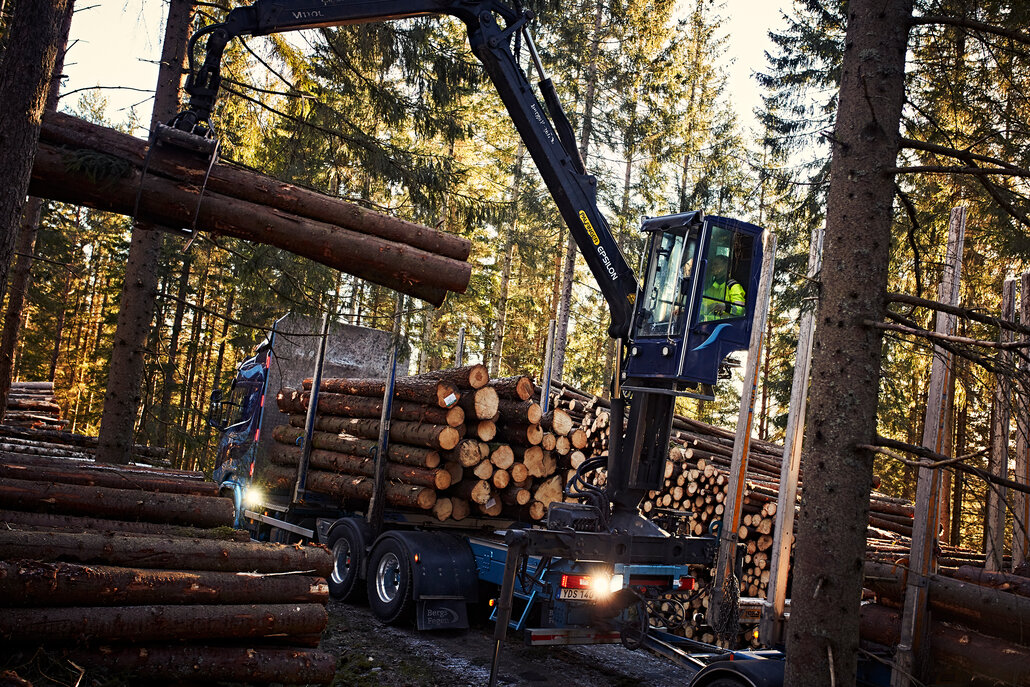 Sustainable forest…​​​​​​​
The Swedish forest is often hailed as part of the solution to slow down climate change, partly because it stores carbon dioxide and partly because waste from logging can be used as biofuels. At the same time, timber transports cause emissions of fossil fuels. Emil believes switching to electric vehicles in the forestry industry will be difficult, since it is dependent on very heavy and powerful machinery and trucks, and it isn't possible to charge them in the forest in case the battery runs out. However, he and his father see other ways of making the business more sustainable, including fuel-efficient driving, or so called "eco driving."
"It means that you plan your driving so well that you never need to use your breaks and really maximize the kinetic energy," Johan said. "Actually, everybody ought to be trained to drive like that, we would save a lot of fuel that way."
Both Johan and Emil also avoid driving with empty trucks to every possible extent. Often, they will coordinate and exchange loads with other haulage firms that have loads to pick up nearby, to make every trip as efficient as possible.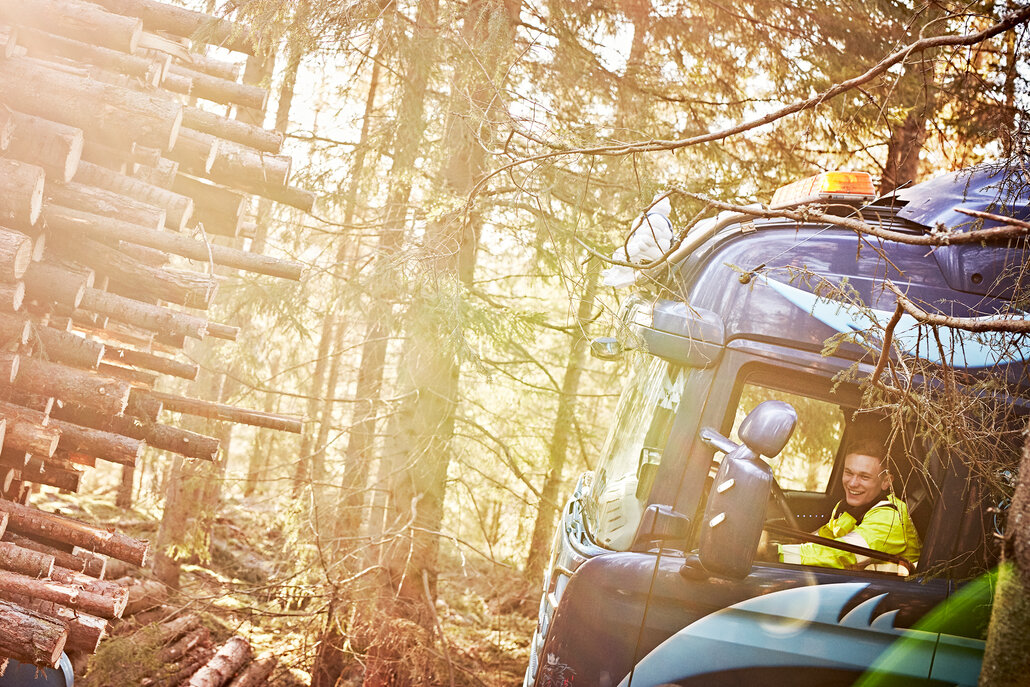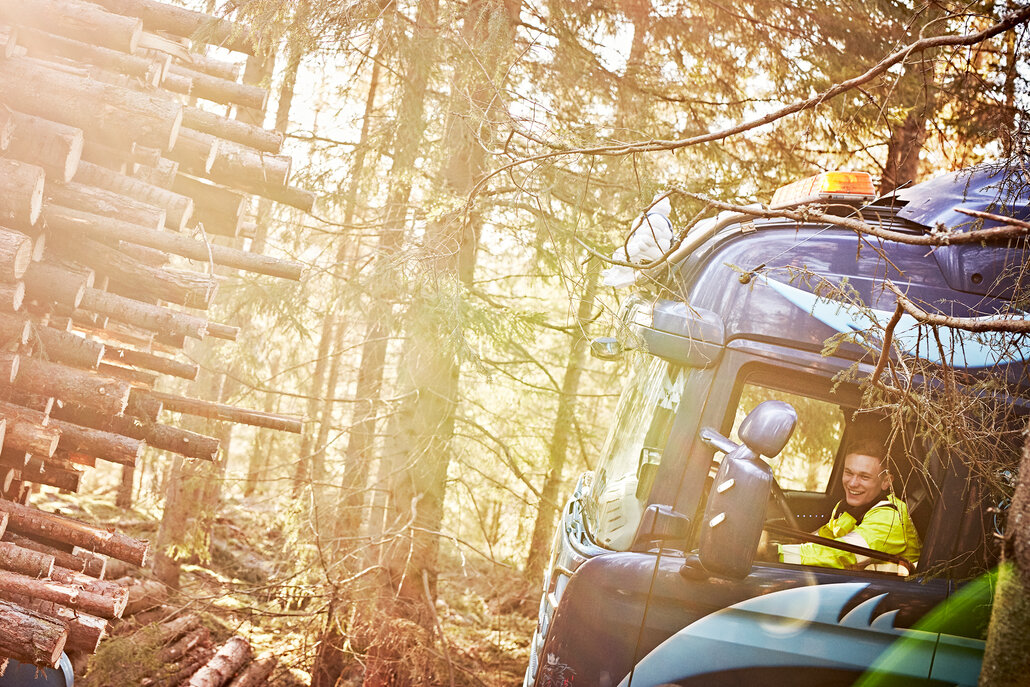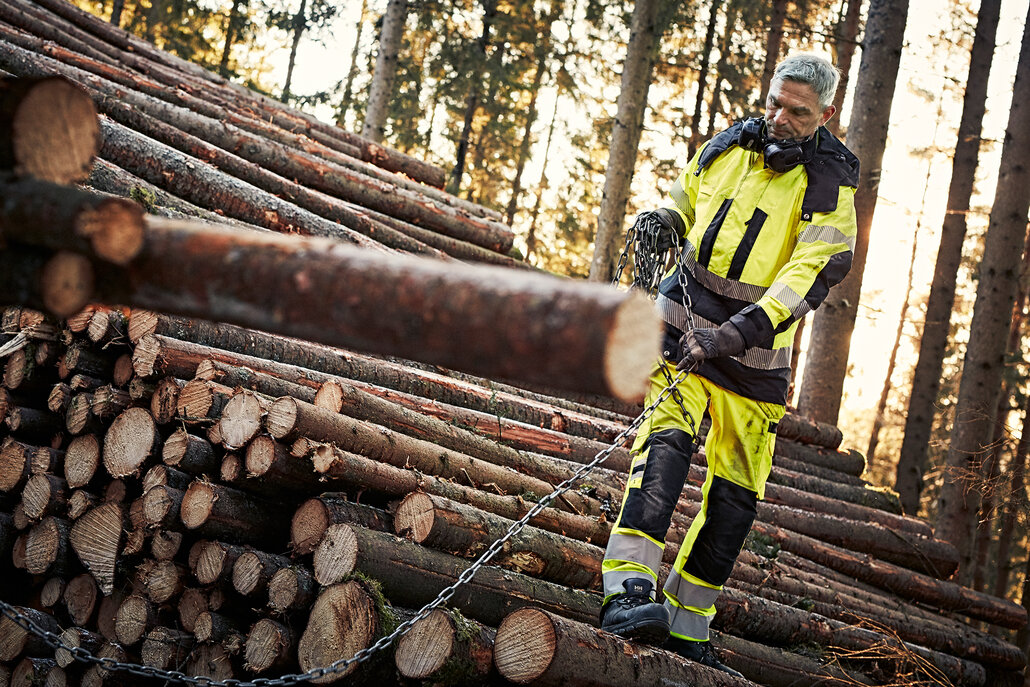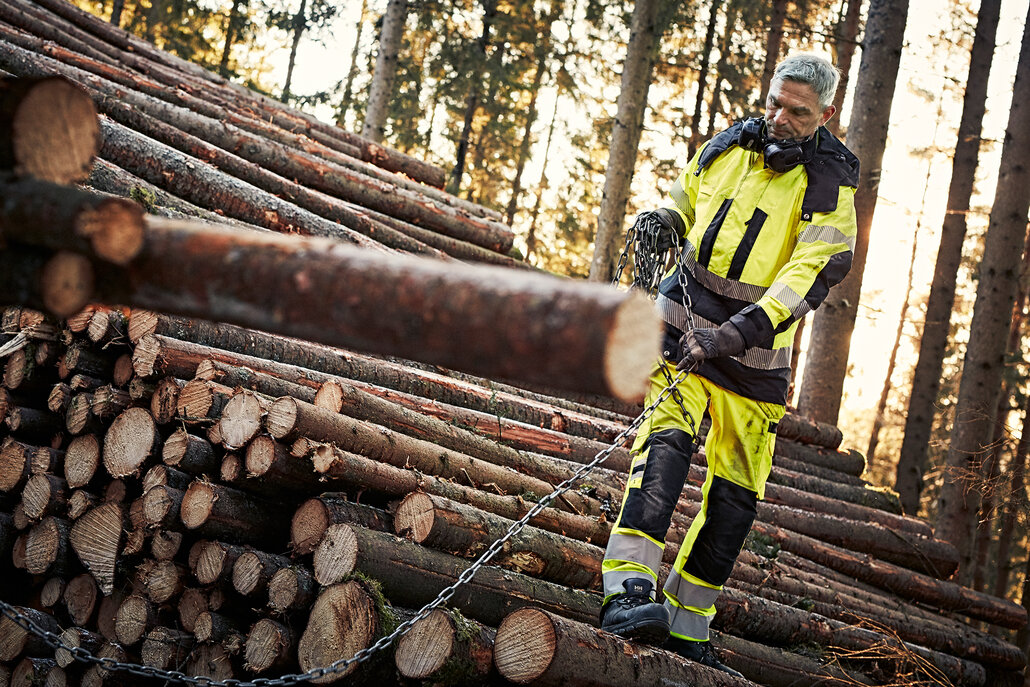 …and sustainable work clothes
The job as a timber truck driver requires durable, functional clothes. When Emil and Johan are out loading timber along bigger roads and then unload it at the industries, it's also important to wear certified high visibility clothes. Plus, both of them like their trousers to be stretchy, for the sake of comfort. Recently, they got to try out the high visibility garments in the latest Fristads Green collection, which are both stretchy and high quality.
"I thought the jacket was very comfortable to wear and easy to take on and off. That's important, because it comes on and off a lot for us timber truck drivers," Emil said.
The new high-vis collection is the first in the world to come with an Environmental Product Declaration. That means the garments are made in a way that reduces the impact on the environment, from material choices to production and transports. The garments are mostly made of organic cotton, recycled polyester and bio-based materials. Being able to choose more sustainable work clothes is something Johan and Emil think is positive.
"The more environmentally friendly you can make work clothes the better, as long as the durability doesn't suffer," Emil said.
EPD - Environmental Product Declaration
Read more about EPD and download EPD-reports for the Fristads Green garments.
Product
gallery
View all environmentally declared products from the Fristads Green collection.
Our sustainability promise
Our sustainability strategy contributes to change and inspires others to follow.